Keep the Imperion Wiki alive! Tell your friends about us.
 Featured article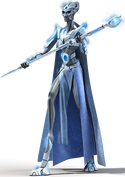 The ancient Titans are the most Advanced species. Convincing the Terrans and Xen to see the universe their way would have been easy, had they not been crippled by the destruction of their home world, Gaia, and the long peace that preceded it. However, their formidable Technological advancements remains an advantage.

In battle Titans are inclined to be defensive and use their technology to boost the defensive capabilities of their units. Protector Class ships boost the shields of all other Titan ships within close proximity. A Stealth Generator can hide ships orbiting planets they own so they cannot be spotted by enemies. A Jammer can exasperate the recon of enemy probes, so the enemy will get the wrong information about the strength of the Titan fleet.
 Featured League 

League name: The Wolf Pack League tag: ).-ωρ-.(
The Wolf Pack are a Mutually Defensive League, whose current mission is to defend the Principles of the ULF. That means:
New worlds being preyed upon may request assistance.
Any ULF League may receive Assistance, regardless of their alliance status.
While Diplomacy is the wolf packs first option, it is not its only option
You may not request Wolf Pack Assistance against any ULF league.
http://www.ulfed.net/forums <--- Wolf Pack Forums
http://forum.imperion.org/showthread.php?t=2407 <-- Application
 The Story 
It's the year 2137. A thousand year old conflict threatens to rip apart a universe in which three species are fighting for domination. After great battles, hope now rests on your shoulders. Vast, unexplored galaxies await you. Develop new technologies, spaceships, and buildings. Be there and decide as Commander the right strategy that will determine the fate of your people. Read more...

 Contents 
 Create a new article 
To write a new article, just enter the title in the box below.
Not sure where to start?
This entire wiki is about an out dated version of Imperion. This entire wiki should be put into a sub thread labeled old Imperion and a new one labeled new Imperion.
Talk and more...
Check out the Forums to see what the community is working on, to give feedback or just to say hi.
Yearning for more information? Visit the Forum and post your question!
Community content is available under
CC-BY-SA
unless otherwise noted.